Damien Michel and his ambitious team focus primarily on the potential of Merlot. From the vine to the cellar, each choice is evaluated according to its social, environmental and economic impact. The house wines produced as 'everyday Grands Crus' are to be shared with friends and family, accompanied by your favorite dishes.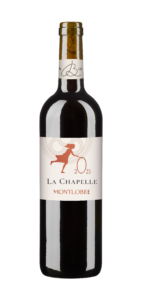 La Chapelle
IGP Pays d'Oc
A wine to share with your friends and family. The one that goes with every occasion, celebration, and daily life at home. A fleshy and structured Merlot, offering an aromatic palette of red fruits supported by sweet pepper. A powerful but refreshing wine, coming from the bright limestone parcels of the South of France.


Étiquette Noire
IGP Pays d'Oc
L'Etiquette Noire comes from a strict parcel selection and a specific work to the vineyard. Wine growers work together with wine makers, and offer us their greatest Merlot. It takes one second to fall in love with this wine, a reflection of the time and attention paid to its creation.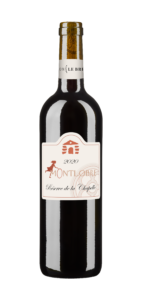 Réserve de La Chapelle
IGP Pays d'Oc
A special selection for our friends at Okhuysen. More than a house wine, this cuvée suits every occasion and surprises both wine enthusiasts and connoisseurs. La Réserve de la Chapelle is a full-bodied and structured Merlot with the velvety tannins of a pomerol and a pleasant pepper.


Septem Quercus
IGP Pays d'Oc
The secret cuvée on which Damien Michel worked for 3 years to offer the very essence of Merlot. An iconic vintage that honors the velvety Merlot, underlined by the warmth of Cabernet Sauvignon and Cabernet Franc. A jewel bottle adorned with an exact reproduction of the stained glass window in the Chapelle de Montlobre.

Étiquette Blanche
IGP Pays d'Oc
The intense citrus and apricot aromas of Viognier, which unfortunately fade quite quickly, are carried and preserved by the structure and richness of the Chardonnay. The complementarity of these grape varieties is a real success which will delight all lovers of fruity, fresh whites. You can drink the Tête de Cuvée Blanc de Montlobre as an aperitif with grilled fish, salads, toast or cheeses.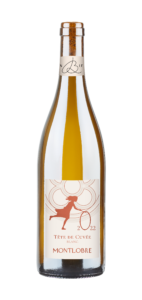 Tête de Cuvée Blanc
IGP Pays d'Oc
Chardonnay and Viognier.The complementarity of these grapes varieties is a real success that delights all lovers of fruity and fresh white wines. We enjoy drinking Montlobre's Tête de Cuvée Blanc as an aperitif or on grilled fish, salads, toasts or cheeses.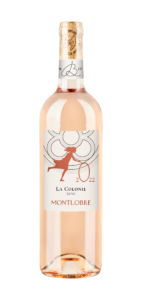 La Colonie Fruit d'une Nuit
IGP Pays d'Oc
Le fruit d'une nuit is about harvesting early in the morning when the night is still fresh. Then we extract the heart of the grape: the juice that is the most balanced between its natural freshness and its very delicate fruit.

C'est La Vie
IGP Pays d'Oc
A fresh and lightly bubbled white Rolle to enjoy on summer nights and fresh spring afternoon. A special creation that will delight the taste buds of crispy, agrums and peers aromas lovers.
Before serving you a drink, discover the Responsible Wine Tasting Charter to guide you in this experience of pleasure and sharing
Wine tasting is an exceptional experience that takes on a particular dimension: it is a moment of discovery, sharing and pleasure. To discover or rediscover a wine, it is necessary to be well prepared, to meet some material conditions and to understand what we are going to do!